CKRA DLC Product Eligibility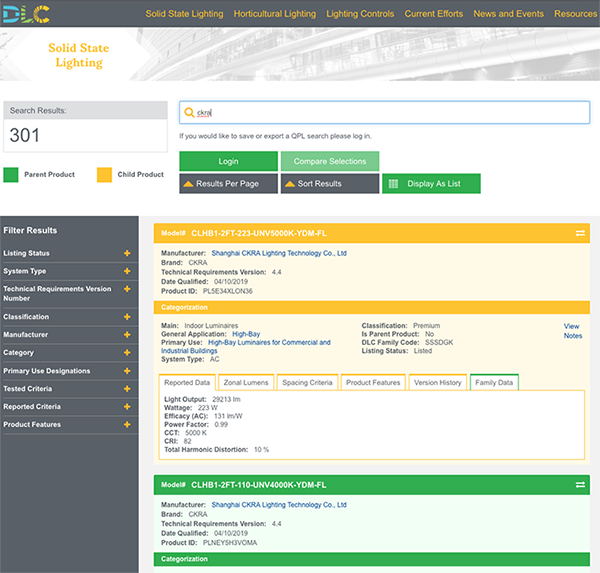 The DLC qualifies commercial LED luminaires, retrofit kits, linear replacement lamps, mogul (E39) screw-base replacement lamps, and four pin-base replacement lamps for CFLs for inclusion in DLC Members' energy efficiency rebate and incentive programs. Available Primary Use designations are prioritized and developed by DLC energy efficiency program Members. Any rebates or incentives are provided at the discretion of each individual energy efficiency program.
CKRA Products submitted for qualification are marketed as and intended for one of the available Primary Use designations below to be eligible.
1.Outdoor Pole/Arm-Mounted Area and Roadway Luminaires.
2.Outdoor Pole/Arm-Mounted Decorative Luminaires.
3.Outdoor Full-Cutoff Wall-Mounted Area Luminaires.
4.Outdoor Non-Cutoff and Semi-cutoff Wall-Mounted Area Luminaires. 5.Parking Garage Luminaires.
6.Fuel Pump Canopy Luminaires.
7.Architectural Flood and Spot Luminaires.
Currently there are 182 CKRA results can be checked. More is coming soon as CKRA has more new models to release, including wall pack Light, Flood light, canopy light, area light, high bay, etc. CKRA Lighting consistently committed itself to provide quality luminaires and help customers get rebate